Easy Repair Methods for Leather Motorcycle Luggage & Saddlebags
For a majority of riders, maintenance of their Leather Motorcycle Saddlebags is a common problem. Cracked and sagging saddlebags can easily ruin the look of your bike.
Saddlebags made with 8-12 mm thick leather or bags with a steal frame, are more durable and long-lasting. However, they do tend to be more on the expensive side. Unfortunately, nearly all leather bags will sag over time.
Luckily, there are some simple solutions for repairing and reshaping this indispensable motorcycle accessory.
Be sure to empty your saddlebags before you begin any repairs.
Fading Color:
Mix Black Leather Dye with any high grade Leather Oil. Before apply to entire bag, apply to a test section on the back.
Repairing a Crack, Peel, or Small Hole:
ABS Plastic Glue is available at any hardware store or home improvement store. You'll locate it in the plumbing section. You can easily fill small holes or cracks with this product
Repairing Larger Holes:
Apply black tape, similar to duct tape, to the inside of the bag, closing the hole.  Now sparingly fill the hole from the outside with ABS Plastic Glue. Check to be sure the glue isn't leaking into the bag. Wait approximately 30 minutes for the glue to dry and your repair is complete and nearly invisible.
Reshaping Leather Motorcycle Saddlebags:
Buy Plastic Polystyrene Sheets and a very strong glue from any hardware or home improvement store.
Remove the bags from your bike.
Measure and make a pattern of the lid and inside of the saddlebags.
Cut the Polystyrene sheet to match these exact measurements.
Apply the glue to the sheets and stick them to the inside of the bag.
Put weight on the sheets and leave it overnight.
You should be ready to go by morning.
Some leather lends itself to reshaping better than others. If you aren't happy with the results, you may need to buy a new set of saddlebags.
You're best bet is to keep your bags treated with leather care products. Treat them before and after a ride. Also whenever you haven't used them for awhile. This will help keep them more supple and in good shape for quite a while longer and save you from having to replace them so often.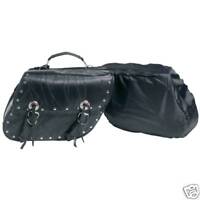 Check Out These and More Great Motorcycle Bags!